Australian Distributor for Nupi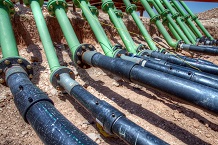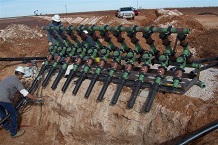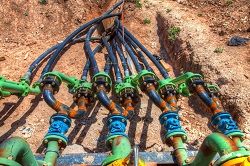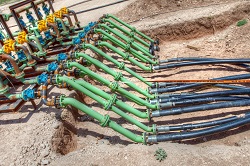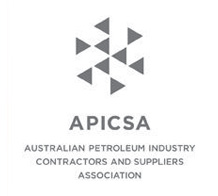 OILTECH

Product Information
OILTECH is a complete multi-layer piping system manufactured by NUPIGECO specifically for the conveyance of hydrocarbons, petroleum extraction, waste and hazardous fluids in aggressive environments.
OILTECH pipes are extruded as an advanced multilayer structure consisting of a base of HDPE piping that is internally lined with a chemically resistant liner and bonded together in unitary fashion using a tie layer. OILTECH pipes can be used in a wider temperature and pressure range than ordinary HDPE and can guarantee better compatibility to chemicals and lower permeation to hydrocarbons. In addition, OILTECH pipes are easy and cost effective to install. Supplied in either coils or straight lengths, they can be handled and assembled in the same manner as conventional HDPE pipes using electro-fusion.
OILTECH is a thermoplastic piping system, and therefore it can be joined using OILTECH electro-fusion fittings that guarantee perfect sealing and joints reliability.
OILTECH pipes can improve the Cost / Performance Ratio by effectively replacing steel in high and low temperature pressure applications including those that make use of expensive engineering thermoplastics or piping systems made of Fibreglass or Reinforced Thermoplastic Piping (RTP).
OILTECH is specifically engineered for conveying hydrocarbons in aggressive environments (e.g. H2S, CO2) where chemical resistance limits the use of conventional plastics as a unitary piping system for hydrocarbon applications due to permeability and compatibility concerns.
The use of OILTECH multilayer pipes extruded with an integral lining is an attractive method of protecting the conventional bulk polymer or structural wall from the effects of hydrocarbons and chemical attack.
OILTECH has an extensive range of pipes and fittings including:
Multilayer pipe in 300 Series, 300HT Series (for higher temperature applications), 500 Series and higher pressure pipe currently under development
Size range 50mm to 250mm (2" to 10")
Full range of electro-fusion fittings for safe, corrosion-proof joints including couplings, elbows, tees and reducers
Extensive range of spigot fittings including elbows, tees, reducers, caps, loos flange kits (ANSI 150 & 300)
Comprehensive range of transition fittings including threaded, schedule steel welded, grooved, victaulic and flanged. Fittings are manufactured in compliance with ASTM F 1973 as ASTM D2513 Category 1 mechanical joints
Welding units and tooling
All products are available in a wide variety of sizes and configurations making the system suitable to various kinds of installation.
CUTTING-EDGE TECHNOLOGY AND INSTALLATION COST-REDUCTION
One of the major problems of metallic pipes is that they suffer corrosion and this is one of the major problems to cope with. In cases where the transported fluid is both hot and high in salt, H2S, CO2, and dissolved O2, the lifetime of a carbon steel pipe can be measured in months, even with an aggressive corrosion inhibition program. Such programs can cost many hundreds of thousands of dollars per year for even a very limited amount of piping. Using OILTECH may well result in substantial cuts in maintenance costs.
Multilayer thermoplastic pipes are the ideal solution for high & low temperature pressure applications and also for lining and rehabilitation of existing pipelines.
Main Features
Light Weight
Pipe Flexibility – Coils or Straight Lengths
Above or Below Ground Installation
Extreme ID Wall Smoothness throughout its service life
Multilayer Structure
Corrosion and Chemical Resistant
High Impact, Creep and Stress Cracking Resistant
Abrasion Resistant
UV Resistant
Excellent against Paraffin and Scale Build-Up
Easy and Fast Installation and Repair
GPS Locator System Available
Outer Layer in HDPE > Provides Mechanical Strength and Outer Chemical Protection
Inner Layer in Modified Polyamide > Provides Chemical Resistance and Permeation Barrier
Tie Layer > Binds Together Inner and Outer Layer
Typical Applications
The most common applications for OILTECH pipes and fittings are as follows:
Zero permeation hydrocarbon applications
Produced fluid flow lines
Saltwater handling systems
Waste disposal pipeline systems
Transmission lines
Gathering systems